Autumn is coming… From 20 September, we offer you our winterisation service. As soon as the water temperature in your pool falls below 20°C, it is advisable to winterise your pool so that you can get through the cold weather with peace of mind and find your pool ready for use as soon as spring arrives.  
At BLM Piscines, there are two wintering solutions available to you: partial or total wintering.  
Our partial wintering service 
This is a simple solution to put your pool to rest during the winter season.
It allows you to keep your pool open during the winter. Our teams come and adjust the filtration time, clean your pool and adjust the PH. Your pool continues to operate partially.
By choosing this option, restarting your pool will be easier in the spring.
However, weekly monitoring with minimal maintenance is required with this solution.  
At your request, our teams can come once a month to check your pool.   
➡️ Ideal to enjoy your pool visually!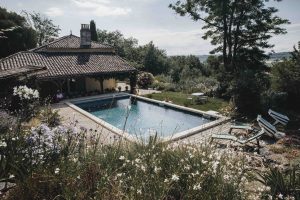 Our total winterisation service
When we talk about total winterisation, we mean stopping the operation of your pool completely during the winter.  
With this option, your pool will be treated and then covered at the time of wintering. Our teams drain a large part of your pool (pipes, pumps, etc.) so that the water no longer circulates. We also take care of Ph regulation, lowering the water level, adding liquid chlorine and wintering products, and installing the cover. 
➡️ Ideal for second homes, or with a lot of vegetation! 
If you have a heat pump, a salt water chlorinator or a redox pump, it is imperative to winterize them to protect them from freezing. The by-pass must be closed, the appliance emptied of water and the electrics cut off on each of these appliances. 
Contact us 
We can provide you with winter safety covers, as well as any other accessories and products for the winter season. Do not hesitate to contact us for any pricing request. 
The BLM Pools team wishes you a good winter!